***NEW*** SHOW RESULTS! ***Scroll to bottom for more photos***
–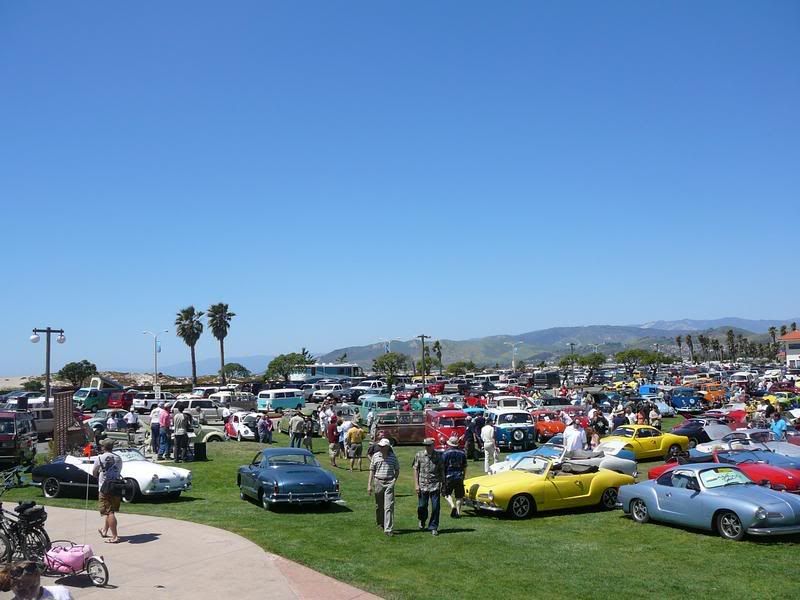 —————————-
Type 1 Split
1st David Flores – Santa Barbara, CA
Type 1 Oval
1st Robert Hyken – Valencia, CA
2nd Michael Munninger – Pt Mugu, CA
Type 1 1958-67
1st Jim Lane – Santa Maria, CA
2nd Hector Valencia – Oxnard, CA
Type 1 1968-79
1st Mike & Lynn Bushell – Thousand Oaks, CA
2nd Victor Vasquez – Port Hueneme, CA
Type 1 Cabriolet
Brad Millard – Ventura, CA
——————————

Type 2 1949-67
1st John Candreva – Thousand Oaks, CA
2nd Oscar Guevara – Oxnard, CA
Type 2 1968-79
1st Alan Patten – Ventura, CA
2ns 70 Panel Surf Bus (Sorry– name please!!!)
Type 2 Camper
Greg Knight – Ventura, CA
——————————
Type 3 1962-73
1st Oscar Guevara – Oxnard, CA
2nd Shawn Northrop – Port Hueneme, CA
——————————
Karmann Ghia 1955-59 Coupe
1st Luis Ruiz – Lancaster, CA
Karmann Ghia 1960-66 Coupe
1st Jeff Meier – Woodland Hills, CA
2nd Henry Darnell – Castaic, CA
Karmann Ghia 1967-71 Coupe
Tom Edwards – Peoria, AZ
Karmann Ghia 1972-74 Coupe
1st Miles Speck – Thornton, CO
2nd Mary Dunlad – San Clemente, CA
Karmann Ghia 1958-69 Cabriolet
1st Lisa Meier – North Hills, CA
2nd Chrys Espejo – Van Nuys, CA
Karmann Ghia 1970-74 Cabriolet
1st Richard Preston – Los Angeles, CA
2nd Leroy Orozco – Corona, CA
Karmann Ghia Type 34
1st LLoyd Mestas – Riverside, CA
——————————
Type 181 Thing
1st Erich Gross – Santa Maria, CA
——————————
T25 Vanagon
Bonnie Dean – Ventura, CA
——————————
Best Custom/Modified
1st John Tunis – Port Hueneme, CA
2nd Chrys Espejo – Van Nuys, CA
Best Stock/Original
1st Jim Van Voorhis – Northridge, CA
2ns Oscar Guevara – Oxnard, CA
Best Interior
1st Oscar Guevara – Oxnard, CA
Best Engine
Tom Edwards – Peoria, AZ
Best Paint
Tom Edwards – Peoria, AZ
Rarest of Show
Joe Mond – Dubuque, ID
Best of Show
Oscar Guevara – Oxnard, CA
Promoters Choice
Reeed & Heather – (Sorry!!! Location?)
Other Models (inc. Manx, Baja, Kit cars, etc.)
Sammie Smith – Nagadoches, TX
Farthest Driven VW
Sammie Smith – Nagadoches, TX
——————————
Beautiful 88 degree spring day in the Ventura harbor. Santa Ana winds were blowing warm down off the deserts and the air was filled with lady bugs.
54 Ghias made an appearance joined for the first time by other VWs (for a total of 130 VWs) on the grass at the harbor village. The Hi Cee's bar pull a grill out the back door and grilled burgers and dogs for everyone while Airhead parts gave away lots of VW stuff throughout the day.
After the show was over, some of the cars stayed for other activities around he harbor (making for some interesting photos you'll see near the end……..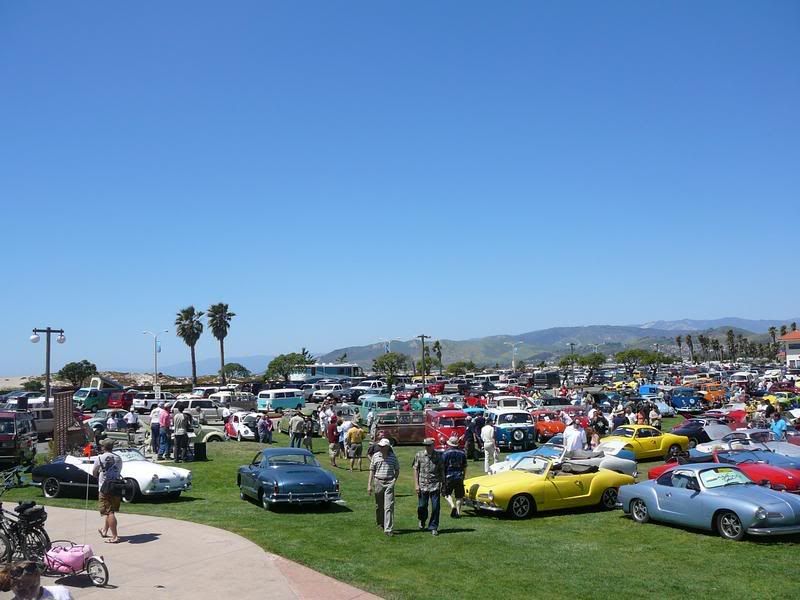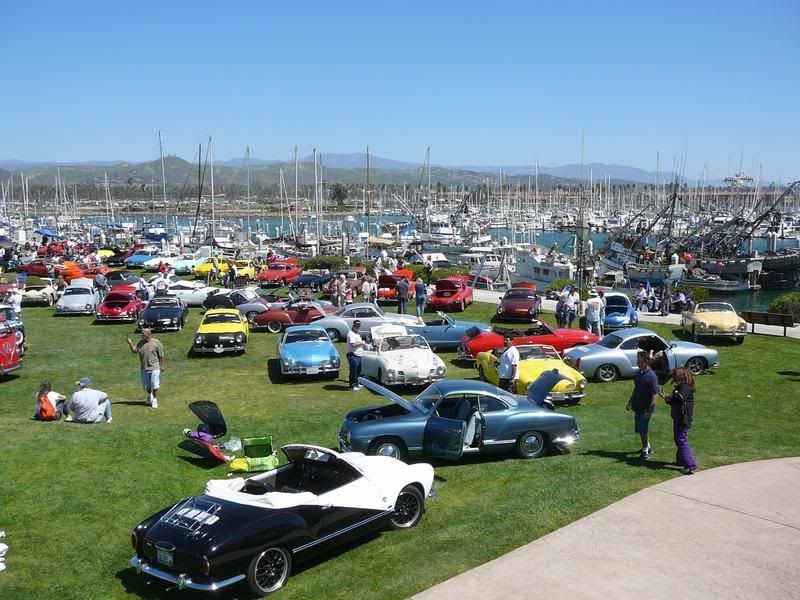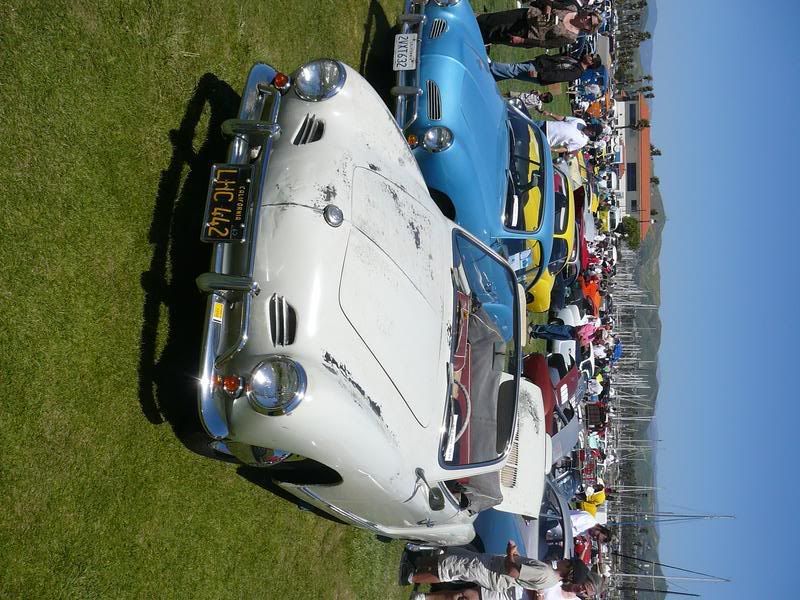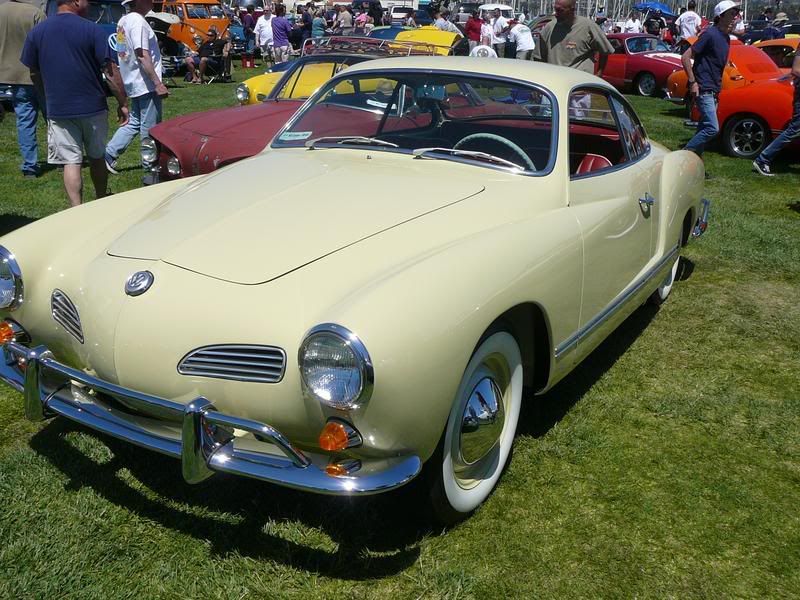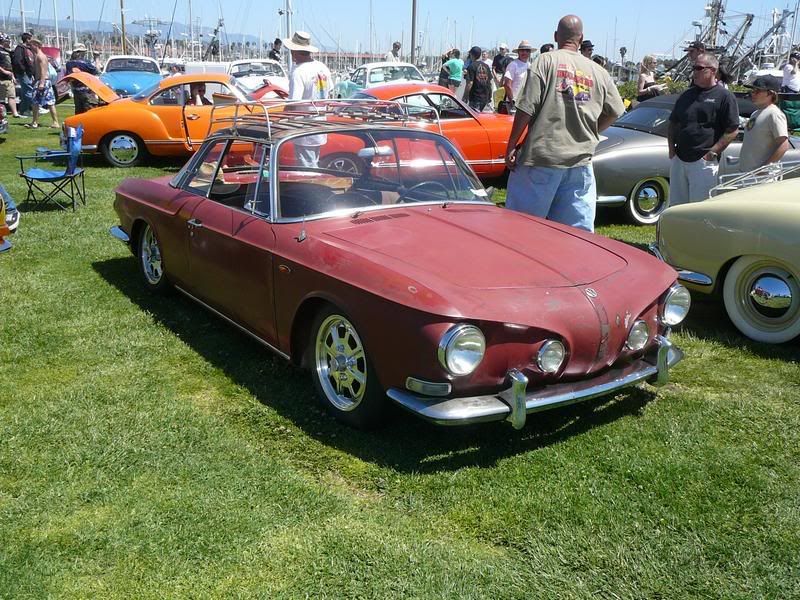 Alfred Salinas (with a Best of Show Ghia from Treffen 7) is joined by the original owner and her daughter when she came out "to see my baby"….Difinitely in good hands.
The Real deal Fire Wagon (not restored) from Germany…..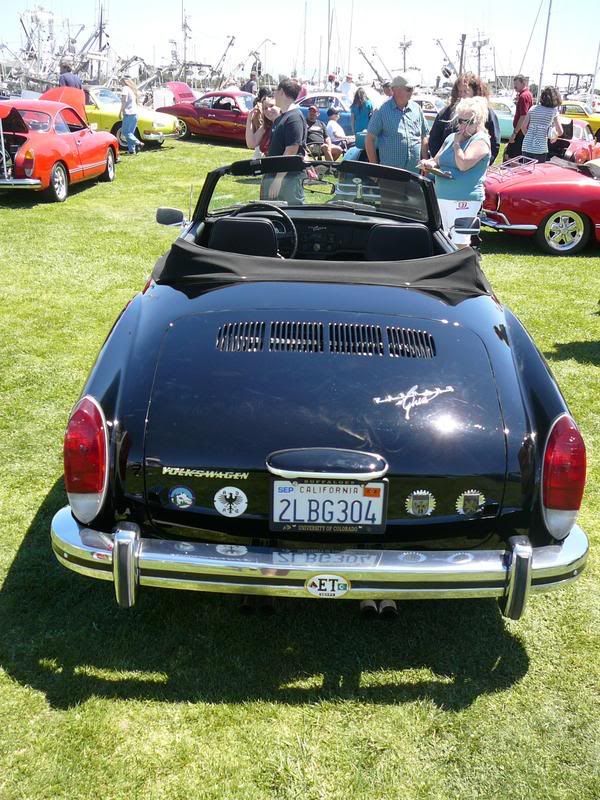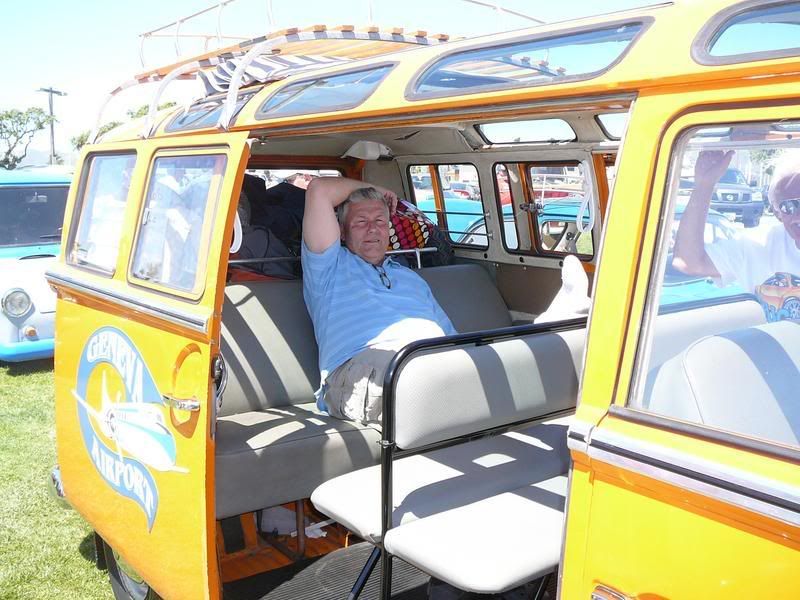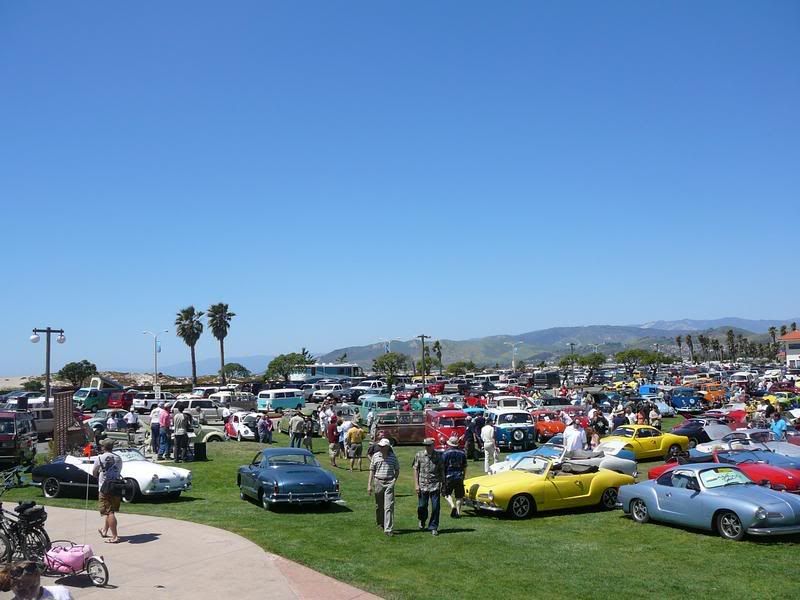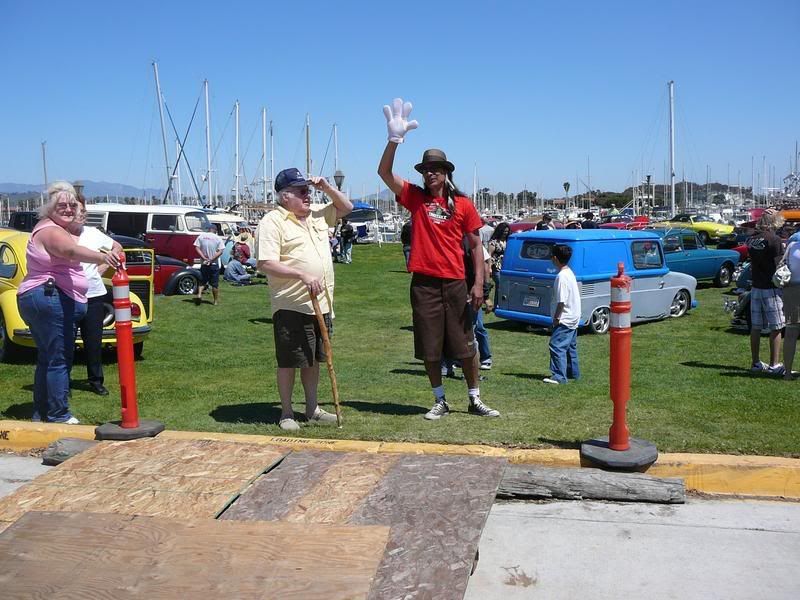 Below is Best of Show, Oscar Guevara's 60′s Vert.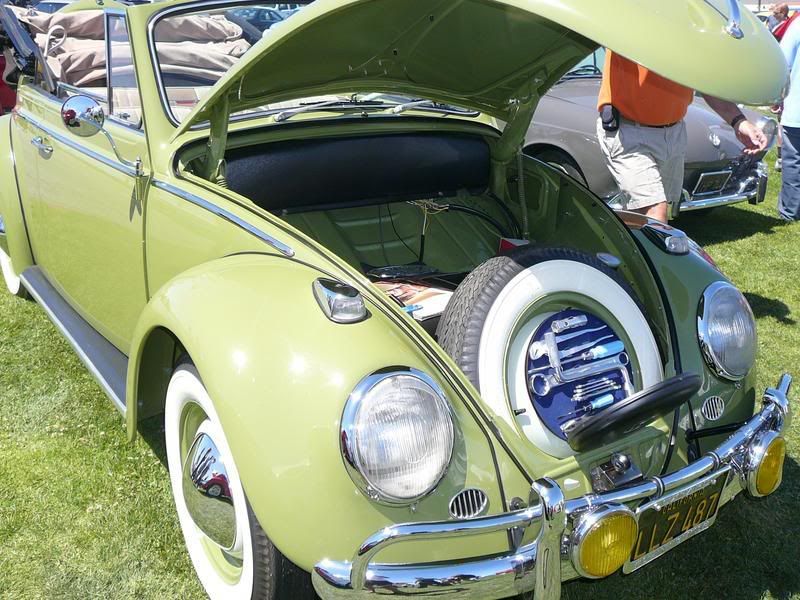 A very rare sunroof in an early Ghia…..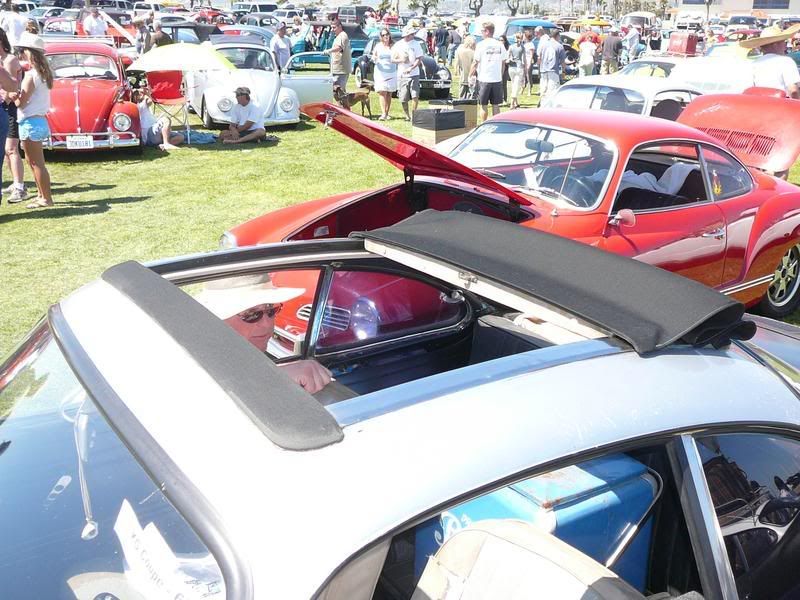 More of Oscar's Bug 'Vert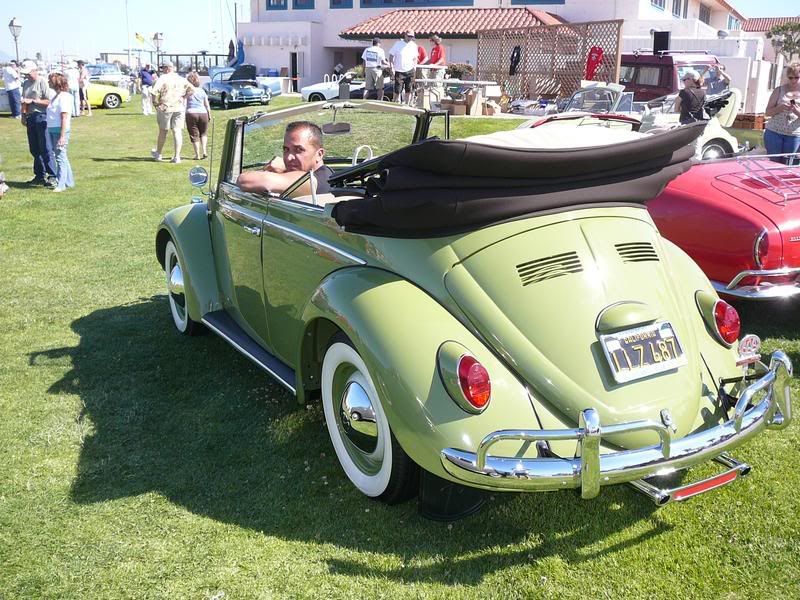 Tyrone's Ride. He and the Wolfpack club handle the parking without a single fatality!
The show slowly winds down………